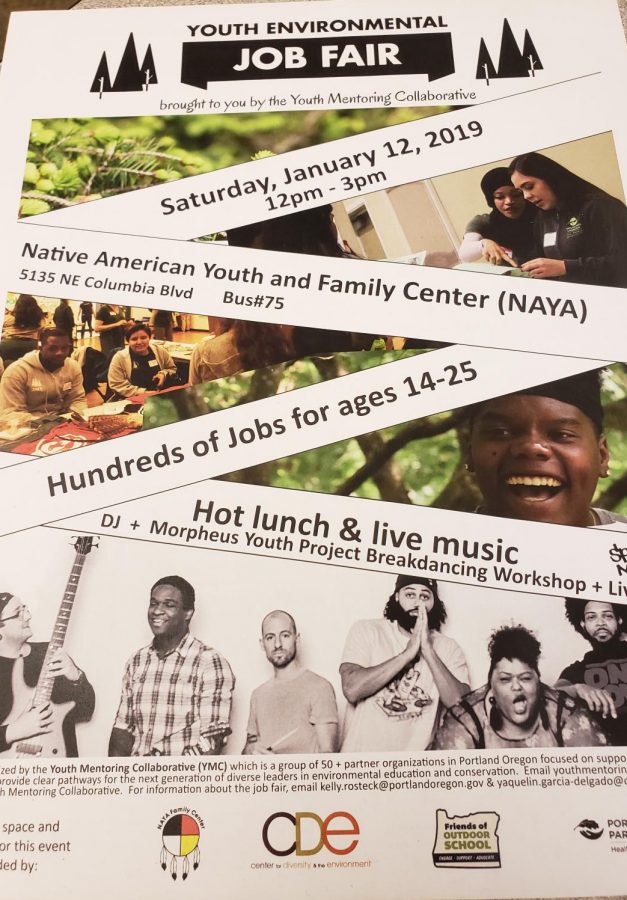 Young
ENVIRONMENTAL JOB FAIR THIS SATURDAY 
(January 12)
    Ages 14-25
    HUNDREDS OF JOBS–all dealing with parks, water, animals, day camps, trails
    Native American Youth and Family Center (NAYA)
    5135 NE Columbia Blvd.  (They say bus #75–I am not sure how that works.)
    12-3 pm
    Lunch and music provided.
    Poster at: https://www.portlandoregon.gov/parks/article/704893
YOUTH CONSERVATION CREW–Summer Jobs
  Paper applications available in the Counseling Center, or they can apply online.
          I will mail properly completed paper applications on April 3 for any student who
          chooses to go this route.  I will not mail them after that date.  Students must have
          a letter of recommendation to mail at the same time.  Have students submit these
          items to me and I will make a mass mailing at no charge.
   They will need a letter of recommendation to apply.
    Three crews:
       1)  Tree crew (trees, tech and maps, human health)
       2)  No Ivy League (plants, animals, science)
       3)  Trail Crew (engineering, construction, access to nature)
Summer Work–won't start until we are out of school
 Apply online by April 19: www.portlandoregon.gov/parks/ycc