Boys Soccer Plays At LO Saturday At 7
Sonam Phuntsok, Staff Writer
October 26, 2017
The Eagles had a very successful season finishing 6-5-3 with a league record of 4-1-2. They finished ranked 22nd in the state and 2nd in the Mount Hood Conference securing themselves a playoff game Saturday at 7pm at Lake Oswego.
Head Coach Todd Saks is very pleased with how the season panned out for the team. He said, "I am proud of the boys. I don't think many had us picked to be there this year. After Central we started to click. It was nice having the chance to win  a league title."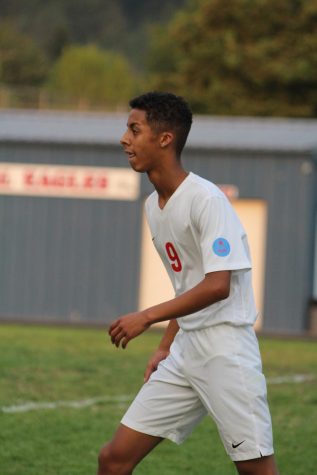 While the Eagles have many stand out individual players the success they achieved this season was undoubtedly because of their strong team performance playing together as a unit. Much of the success the Eagles had on defense can be owed to senior captain Miguel Carrillo. Saks commented, "Miguel was by far the reason we had as many shutouts as we did." Saks continued to name  more key players for the team throughout the season. Senior Selvyn Larias (Chino) has played very solid in the backline for the Eagles. Junior Nathan Feltner was key in the midfield locking teams down. S
Sophomore Angel Garcia has proven to be one of the strongest and technical midfielders in the Mount Hood Conference. Senior midfielder Tahj Pamphile gave the team a good flair as an attacking midfielder. Freshman Aye Doh Chan played a pivotal role for the Eagles on the offensive end.
Saks said, "Aye Doh was a speed demon with 4 goals in league play and 12 overall in the season." Sophomore Jair Navarro was also a key for the Eagles attacking game using his speed and technical ability.  Coach Saks made sure to mention Junior Goalkeeper Gabriel Jaramillo who executed his role with much success. He said "He is a solid goalkeeper that does all the little things and can come up with big plays as well."
The Eagles played their last regular season game against Oregon City. The game ended in a tie, the score 0-0. Coach Saks said, "It was a good game. The field was flooded and made it hard to play our style of game. We played well under the conditions. One goal would have been enough for the win and the conference championship."
Boys soccer will be playing their first playoff game against a top 10 ranked Lake Oswego team. The Eagles are confident in themselves despite Lake Oswego's strong reputation. Coach Saks said "We believe we can get the win. Put a lot of pressure on them, control the midfield, organized in the back, and finish."The Eagles have already seen Lake Oswego once in pre season losing 3-2. Saks noted "We will be focusing on their forward I believe #45. He is their key player." Regarding the goals for the Eagles in playoffs Coach Saks said, "Taking one game at a time and beating each team we play.