Track and Field Has Tremendous Season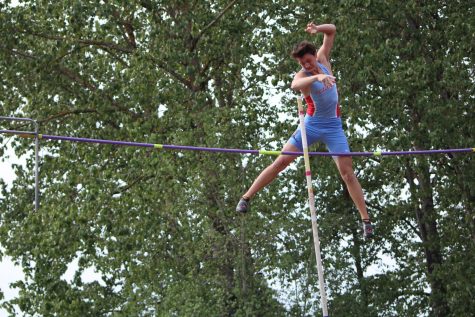 Spring sports have come to an end, so now the  intensity-filled track team can look back at how far they have come. Centennial had nine participants in the state meet, which was the most in recent history.
Overall, the Centennial track team had a solid season. Coach Luke Franzke commented, "This was the most successful team in the last 15 years for boys and girls."
Clackamas won the Mount Hood Conference league for girls and Oregon City won for boys, although this season was definitely a historic one for Centennial track. Franzke said, "The kids competed harder than ever with positive attitudes."
As a result, the team has been improving every year and has attracted more athletes. This year the track team fielded all events competitively with over 110 kids.
Outstanding performances included the girls winning the Elden Keller Invitational, which none one saw coming. The boys got second, but Centennial won overall as a team. To add on, Centennial track had its first cancellation for a meet ever. This was due to the weather and lightning.
The Track team has been in a building process for the last 4 years and had more kids advance to state. The 5 state qualifiers were Monica Angelechio for shot put, Alivia Jackson for javelin, Shawn King for long jump, Julia Colling for pole vault, and Anouson Keobounnam for shot put.

In addition, CHS had four wild cards make it to state: David Pham for high jump, Yelisey Gurzhuy for pole vault, Sierra Schultz for pole vault, and Jesse Porter for triple jump. Junior Shawn king said his most memorable moment of the season was, "Going to state and getting 4th."
Keobounnam commented, "My most memorable moment was finding out I won districts and going to state."