STATE CHAMPS!!!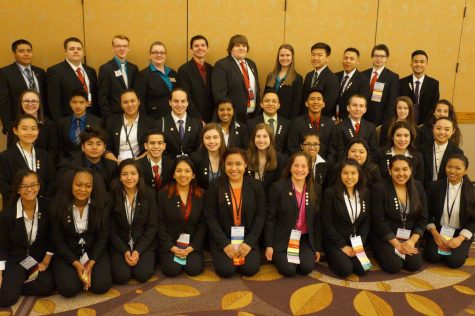 Centennial's FBLA attended the Oregon State Business Leadership Conference that was held April 7-9 at the Doubletree by the Lloyd Center and in the Convention Center.  
This is the fifth time Centennial has been state champions as they won in 2006, '07, '08, '09, '10 and '16.
At the conference, students participated in an opening session on Thursday and then competed on Thursday and Friday.  The events included chapter bonding, and business workshops. Saturday consisted of the closing session, where the students received awards for placing in the different events that were held during the previous days.
The opening and closing sessions were held at the Convention Center, while all other events were be held at the Doubletree Hotel.The students that placed 1st-3rd received a certificate from the Centennial School Board for their accomplishments.  
Here is a list of the winners from Centennial:
Crystal Ambrocio

2nd Partnership with Business

Erika Arce

1st place Business Plan, 6th place Chapter Newsletter

Alondra Barerra

2nd place Public Service Announcement

Kimberly Barerra

Tess Bostwick

2nd place Business Financial Plan

Dayron Bueno

Stephen DaHann

Katee Early

7th place Intro to Business Communication

Nathan Erickson

6th place Intro to Business Presentation

Ashton Farris

2nd place Public Service Announcement

Ellie Graham

1st place Community Service, 4th place Spreadsheet Application, 7th place  Electronic Career Portfolio

Madison Higgins

Janesha Jackson

Sean Jim

3rd place Computer Game Simulation

Patricia Juarez-Jimenez

1st place Web Design, 2nd place Electronic Career Portfolio, 5th place Digital Scrapbook, 6th place Chapter Newsletter

Brian Koll placed

1st place Community Service, 2nd place Word Processing,

Selvyn Larios placed third for Business Plan

Cheng Lee

2nd place Digital Video Production

Diane Lobato

4th place American Enterprise

Noah Mabee

6th place Intro to Business Presentation

Antonio Martinez

1st place Business Financial Plan, 6th place Electronic Career Portfolio

Carlos Martinez

1st place Public Service Announcement

Geselle Martinez

2nd place Business Financial Plan, 9th place Electronic Career Portfolio

Phillip Mestas

1st place Business Financial Plan, 2nd place Business Calculations

Leticia Navarro

2nd place Business Financial Plan

Van Nugyen

3rd place Computer Game Simulation, 6th Intro to Information Technology

Marissa Nowordoski

2nd place Web Design, 9th place Network Concepts

David Pham

2nd place Public Service Announcement

Brittney Pioquinto

2nd place Digital Video Production, 6th place March of Dimes

Grace Ramstad

2nd place Future Business Leader, 2nd place Partnership with Business, 9th place Business Calculations

Yvette Tapia

Sheila Trnjanin

1st place Business Plan, 6th place March of Dimes

Jerry Vuong

1st place Public Service Announcement, 5th place Electronic Career Portfolio