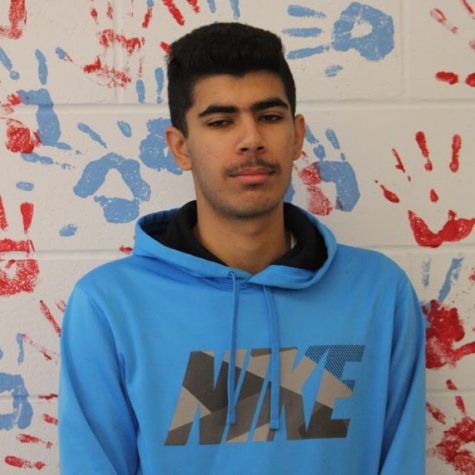 John Doumit is junior who joined
The Talon
because he would like to learn about different kinds of sports and what it takes to become a great reporter.
Doumit isn't a huge fan of books and homework but he does it anyway because someday he aspires to become an engineer that earns a lot of money and helps his parents who have always been there for him.
Doumit has attended the Centennial school district since he was in kindergarten, so one could say Centennial is in his blood.
While he enjoys watching soccer and college football, his favorite sport is by far basketball. Doumit is a huge Portland Trail Blazers fan and follows them closely.
Doumit hopes that his experience in The Talon will help him develop a better understanding of what goes on across the school.
John Doumit, Staff Writer
Jun 09, 2017

Sports Column: Warriors Will Wrap It Up Tonight

(Story)

Jun 01, 2017

Sports Column: Doumit Takes Warriors In Six Games

(Story)

May 26, 2017

Baseball Season Ends With Battle At Gresham

(Story)

May 23, 2017

Eagles Beat Tigard, Face Gophers Tomorrow at 5

(Story)

May 16, 2017

Baseball Finishes 3rd in League; Play At Tigard Monday

(Story)

May 12, 2017

Girls Finish Third; Petersen Earns COTY

(Story)

May 05, 2017

Gresham Slows Baseball Momentum; Playoffs Still In The Future

(Story)

May 05, 2017

Tennis Rallies Toward Districts

(Story)

Apr 28, 2017

Baseball Starts To Heat Up

(Story)

Apr 21, 2017

Girls Tennis Stays Strong

(Story)

Apr 20, 2017

Baseball Wins 3 of 4; Plays Central in DH Tomorrow

(Story)

Apr 13, 2017

Baseball Starts Slow But Is Picking Up Momentum

(Story)

Mar 24, 2017

Baseball Heads to Arizona to Dry Out and Turn Things Around

(Story)

Mar 16, 2017

Mei Takes Over Boys Tennis

(Story)

Mar 01, 2017

Girls Improve on Last Season

(Story)

Feb 01, 2017

West Has Girls on Upward Path

(Story)

Jan 07, 2017

Meet the Winter Coaches

(Story)

Dec 19, 2016

Girls Start 2-2; Match Last Year's Win Total

(Story)

Nov 02, 2016

Grant Ends Girls Season

(Story)

Oct 12, 2016

Sports Column: Tajik Brothers Adjusting Well

(Story)

Oct 12, 2016

Girls Off to Unbelievable Start

(Story)

Oct 12, 2016

SBAC Testing Just Around the Corner

(Story)