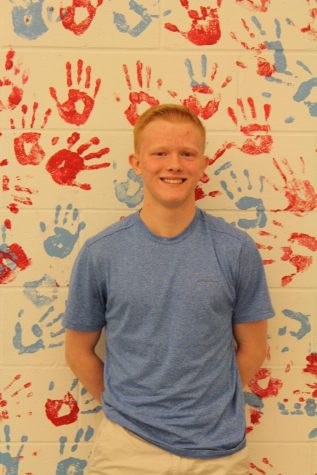 Eli Porterfield is a senior that is contributing his second year to the Advanced Journalism team. Porterfield is also involved with the basketball program, he spends a lot of his time around basketball and was a member of the JV basketball team last year.  Porterfield's free time often goes towards playing basketball.   One of his pastimes is watching both NBA and college basketball games with his dad. Porterfield has many mentors, including his parents, but holds professional basketball player Damian Lillard as an example of a mentor he looks up to for inspiration.  Traits Lillard emphasize included: humility, kindness, positivity, and strong work ethic.
Porterfield described himself as a more reserved person, he's not very outgoing unless he knows people well.  He has one older brother named Austin, who is close to graduating college at Mount Hood Community College.  Additionally, he also owns a pet dog named Mia.  He said his favorite genre of music is rap.  Porterfield and his family are huge fans of the Oregon State Beavers and the Portland Trailblazers.
Porterfield, who has been in the Centennial District since kindergarten, says his favorite subject is math, and his favorite teacher was health teacher Brent Child before he became the athletic director.  He is currently planning on attending a local four-year university after high school.  Porterfield is interested in studying in health, fitness, or marketing.  
Eli Porterfield, Sports Editor
Jun 13, 2018

Eli Wraps 4 Years Of Hoops

(Story)

Apr 19, 2018

Boys Rugby Looking To Get Back On Track

(Story)

Mar 21, 2018

Boys Rugby Starts Under Church

(Story)

Mar 19, 2018

Science Department To Exhibit Major Changes

(Story)

Feb 12, 2018

Four Wrestlers Qualify For State This Weekend

(Story)

Jan 19, 2018

Forecasting Starts In Two Weeks

(Story)

Jan 04, 2018

Potential Snow Days Always Raise Questions

(Story)

Dec 15, 2017

Sports Column: Heisman

(Story)

Dec 07, 2017

Sports Column: College Football Playoff Preview

(Story)

Nov 15, 2017

College Football Power 5 Conferences Breakdown

(Story)

Oct 31, 2017

Girls Soccer Season Ends At Sunset Saturday Night

(Story)

Oct 25, 2017

Girls Soccer Wins Play-In, Off To Playoffs at Sunset

(Story)

Oct 12, 2017

Girls Soccer Defeats Second-Ranked Barlow 3-1 Last Night

(Story)

Oct 06, 2017

Girls Soccer Defeats Reynolds 3-0 Thursday Night

(Story)

Oct 04, 2017

Sports Column: NBA Players With the Most to Prove This Season

(Story)

Sep 27, 2017

NBA East Conference Standings Projections Season Outlook

(Story)

Sep 26, 2017

Sports Column: NBA Western Conference Standings Projections Season Outlook

(Story)

Sep 26, 2017

Girls Soccer Defeats Putnam 2-1 in Thriller Monday Night

(Story)

Sep 20, 2017

Girls Soccer Beats Franklin 5-0 Tuesday Night

(Story)

Sep 15, 2017

Girls Soccer Ties Tigard 4-4 Last Night

(Story)

May 27, 2016

Maes, Schuhl Drive to the End

(Story)

May 27, 2016

Softball Ends with Home Loss

(Story)

May 27, 2016

Rugby Makes it "Official"

(Story)

Apr 15, 2016

Low Numbers, Spring Weather Wreak Havoc on Golf

(Story)

Apr 15, 2016

Baker Wins 500th Game

(Story)

Apr 15, 2016

Rugby Progresses; Numbers Are Up

(Story)

Mar 16, 2016

Phillip Kue Takes Third

(Story)

Mar 16, 2016

Golf Takes a Swing at Full Team

(Story)

Feb 23, 2016

Wrestling Season Wrap Up

(Story)

Feb 23, 2016

Weather Causes Headache for Spring Sports

(Story)

Feb 23, 2016

Should Bus Arrival Times Be Later?

(Story)

Jan 22, 2016

Wrestling Team Fights Hard

(Story)

Jan 22, 2016

Spring Sports Start February 29

(Story)

Dec 18, 2015

Coach Matthews Pleased With Wrestling Season So Far

(Story)

Dec 18, 2015

Wrestlers Start Off Strong

(Story)

Nov 17, 2015

Grapplers Hit the Mat

(Story)

Nov 17, 2015

Football Officially Comes to an End

(Story)

Nov 03, 2015

Tigard Here Friday

(Story)

Oct 28, 2015

Winless Season Ends with Close Matches

(Story)

Oct 22, 2015

Hanging in There Despite Setbacks

(Story)